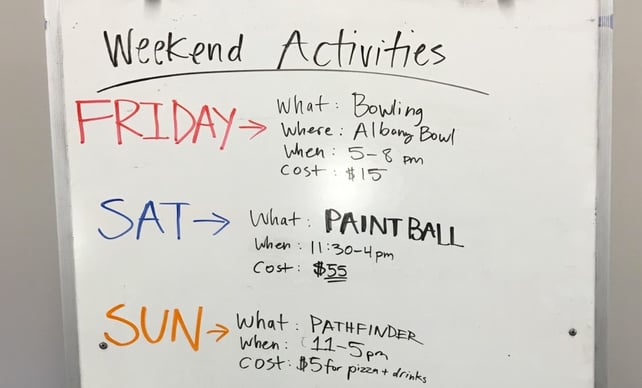 This blog post was written by CIP Berkeley student, Jacob. He explains how CIP empowers students to practice independence during the Student Forum.
One of the skills we practice at CIP is learning how to set up and plan for events independently, and one way we do that is to plan our own weekend events. A weekend event is where students go out into the community to have fun, take pictures, and discover new things. But -- how to decide the events -- that is the question. There is a solution, and that solution is known as Student Forum.
At CIP Berkeley, the Student Forum is a module that takes place on Wednesday mornings from 9:00 am to 9:45 am. It is here where we discuss and plan weekend events, among other things. We give out the options for potential group activities and people vote for the activities that appeal to them most. There are usually four weekend event options to chose from. The mandatory lower-limit for students is 2 events out of the 4 options per weekend. The weekend events happen on Friday, Saturday, and Sunday unless there is a holiday, in which case there might be more events. The students are encouraged to arrive 5-10 minutes early, just in case they end up running late. If they are late, they might get left behind, which would count as an unexcused absence.
There are many ways to look up the weekend events. At Berkeley, one of the best sites to look up weekend events is the Fun Cheap SF. It shows all the weekend happenings around the bay area. Other websites to search for weekend events are visitoakland.com and East Bay Express.
By planning the weekend events, students are demonstrating the skills needed to be independent and are also practicing their socialization skills. Also, by learning how to plan and budget for events, we will be ready to transition someday out of the program and into independent living.