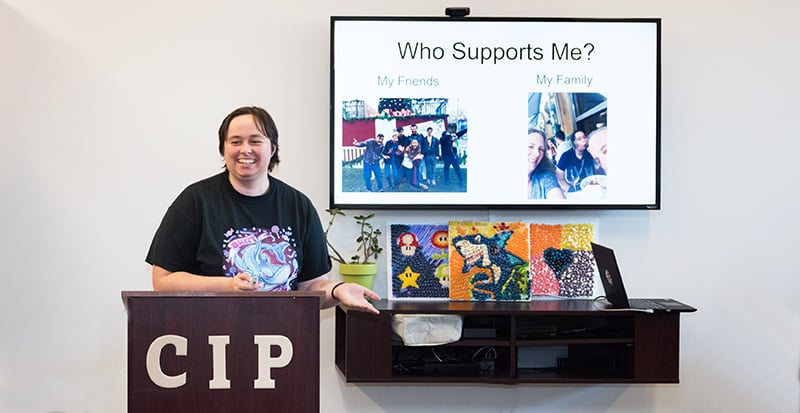 Harper is one of the many students that takes full advantage of the career services provided to students at CIP. Her amicable yet vivacious personality permits her to go to great lengths to attain interviews and connect with members of the community.
Most recently, Harper was invited to interview for a position at East Bay Innovation (EBI); a company that empowers those with disabilities to strive towards autonomy and success - hmmm sounds familiar, don't you think? Harper reported that, "[she] would be a great fit for the company because [she] had the ability to connect with EBI clients on a whole other level. Not to mention that [she] was beyond comfortable disclosing."
Harper is also progressing across all CIP departments and continues to be a supporting ally to her peers. Every week, she volunteers at the Wardrobe for Opportunities and does an excellent job of steaming, tagging, and organizing clothes. Additionally, Harper embodies a myriad of leadership skills and is always willing to lend a helping hand.
Last week, Harper collaborated with a fellow peer to plan and execute a weekend activity. Students enjoyed their Saturday afternoon exploring the Bay Street Emeryville shopping center and topped it off with lunch at California Pizza Kitchen. Harper was a great host and took charge of the first half of the event. She also made sure that everyone stayed together and that everyone was aware of when to get off of the bus. She spoke to the hostess at CPK and made sure that they got a table for seven and that the check would be split seven ways.
Overall, Harper demonstrated amazing leadership and communication skills. Keep up the great work Harper. Kudos to you!