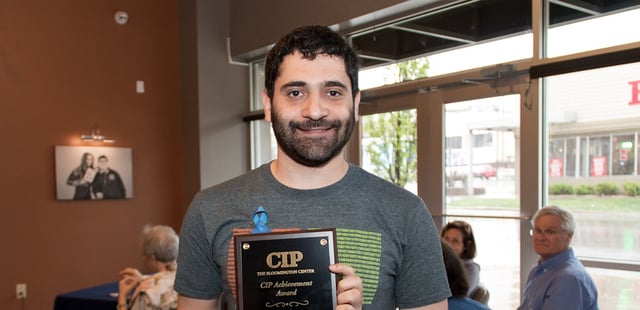 There were times when Daniel wasn't sure what his future would look like. Although he was bright and capable, Daniel dropped out of Rochester Institute of Technology after his freshman year. Diagnosed with Asperger's at age 12, Daniel struggled with time management, anxiety, and motivation issues.
Finding CIP
Realizing that he needed more support to be successful, Daniel and his parents searched for a program that could provide him with additional resources. Daniel applied to CIP in Bloomington, Indiana and was accepted in 2013, at the age of 18. The CIP Bloomington center is one of five national transition programs for young adults with autism and other learning differences.
When he first enrolled in CIP, Daniel's GPA at Indiana University was 2.3. Like most CIP students, Daniel was enrolled in college while attending CIP's year-round program. Slowly, with hard work and support, his GPA climbed to 3.7. Daniel will graduate this summer from Indiana University with a double major in Computer Science with Honors and Mathematics.
"CIP was there for me and helped me become a better student," commented Daniel. "They basically sat down with me until my work was finished."
Daniel received support in the areas of life skills, academics, executive functioning, and ways to work through the anxiety that had previously sabotaged his academic progress.
"We got what all the parents want," stated Daniel's father Loren. "CIP helped Daniel get through school. There were bumps along the way, but he totally changed in terms of being organized. I am convinced that this would not have been possible without the support of CIP."
"Daniel's experience at CIP was life changing," commented Daniel's mom Suzanne. "CIP gave him the one-on-one support that he so desperately needed."
Entering the Workforce
As he prepared to graduate and enter the workforce, Daniel applied to over 50 jobs. He received one response but it was not a good fit. The current unemployment rate for adults with an autism spectrum disorder hovers around 85%.
Not ready to give up, Daniel applied for a job at Microsoft in Seattle in their Microsoft Autism Hiring Program.
After several phone interviews, Daniel was selected as one of 11 people invited to participate in Microsoft's week-long interview in Seattle specially designed for candidates with autism. The jobs for their employees with autism are full-time and offer a competitive salary, just like other entry-level jobs at Microsoft. Their interview process includes a combination of workshops and interviews to help make the experience less stressful.
A few days after returning from Seattle, Daniel was offered a full time engineering job with the Microsoft Excel team. He was thrilled.
Along with providing job opportunities for students on the autism spectrum, the Microsoft program offers new employees an in depth onboarding process, making sure they feel supported in their new job by offering a variety of services.
Daniel will receive a relocation package for his move from Indiana to Washington. He will initially live in corporate housing and find his own place to live after settling into his job.
Next Steps
Now 23, Daniel is currently living independently in an apartment in Bloomington and is taking one final class before he graduates with honors this summer.
He will soon start packing his bags for Seattle and says he is ready to embark on a new adventure.
"I"m looking forward to having a job and my own money and being finished with school," Daniel stated. "School turned out to be a rewarding experience."
His new job starts July 2.