PLEASE NOTE: Due to COVID-19, a Virtual Experience Day presentation is now available on-demand in place of on-site events. Limited on-site visit options have resumed on a center-by-center basis. Visit CIP's COVID-19 Preparedness Page for more information
---
Visit one of the world's most comprehensive college and career transition programs. For young adults with on the autism spectrum, with ADHD & other Learning Differences, their parents, and the professionals who support them.
CIP's Experience Days give you an inside look at our five Centers of Excellence and provide a unique opportunity to learn about the cutting-edge curriculum and approach used at CIP for young adults ages 18-26 with learning differences.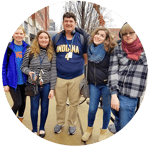 Watch our on-demand Virtual Experience Day presentation by registering below!