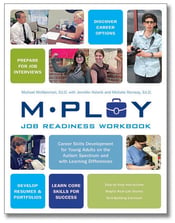 A first of its kind workbook has just been published to assist those who teach young adults with Autism and Learning Differences about securing employment. The workbook focuses on the development of key skills employers are looking for in today's changing workplace.
Mploy, A Job Readiness Workbook provides a step-by-step guide designed to help young adults transition from volunteer jobs into meaningful internships and eventually full-time employment. The book offers guidance and helps students determine the types of jobs that are the most appropriate based on their sensory, social, intellectual, and emotional needs and interests.
"Finding employment is more than just making an hourly wage," stated Mploy author Dr. Michael McManmon. "Key reasons for employment also include socialization, intellectual stimulation, building self-esteem, and providing a contribution to society," he continued.
As companies begin to hire more people with autism, Mploy provides a timely in-depth guide that will help individuals create resumes and cover letters along with exercises to help prepare for employment, concentrating on real-life transferable skills that have proven to be effective in the workplace.
"Mploy is not just about the basics," McManmon stated. "It's a comprehensive guide designed specifically to teach students with learning differences everything they need to know about landing and keeping a job," he continued. "The most effective way to use this book is for a student to work with a teacher, job coach or parent," McManmon added.
The co-authors of Mploy are CIP Founder Dr. Michael McManmon, Brevard Program Director Michele Ramsey, and Career Coordinator Jennifer Koralik. The foreword is written by Carol Gray.
Established in 1984, CIP is a post-secondary program for transition age students with Autism, Asperger's and other Learning Differences. CIP offers year-round and summer programs across the US, including an employment readiness program entitled Mploy, which provided inspiration for the new workbook.
For more information about Mploy, click here or call 1-877-566-9247.