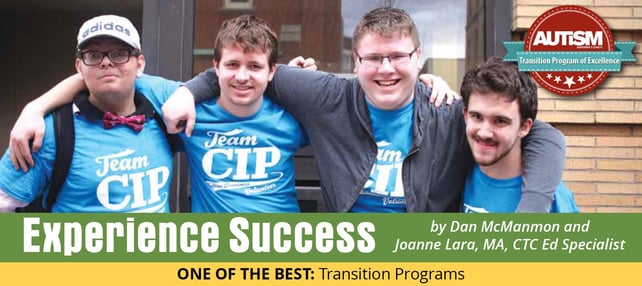 When Kyle Palmer arrived as a new student at CIP's Berkshire Center in Massachusetts, he was experiencing a high level of anxiety, was unable to multitask, and had difficulty living independently. Kyle is on the autism spectrum.
"I felt pulled in all directions with my life," Kyle explained. "I was unable to prioritize tasks, and I had heightened anxiety. CIP helped me learn to calm myself down, learn how to take the initiative and prioritize tasks at home and at work. I learned how to live with a roommate in an apartment. Instead of waiting for something to happen, now I just get things done."
Kyle recently celebrated his two-year anniversary at The Warehouse at Huck Finn in Albany, New York. He has been promoted to a full-time position in the store's rug department and lives nearby with a roommate in Rensselaer, New York.
While at CIP, Kyle, a self-proclaimed history buff, interned locally at the Norman Rockwell Museum in Stockbridge, Massachusetts. He found his niche there transcribing Norman Rockwell's handwritten notes into digital text.
Kyle is now an alumnus of CIP Berkshire, a post-secondary transition program for teens and young adults with autism, ADHD, and other learning differences. The program was founded in 1984 in Lee, Massachusetts by Dr. Michael McManmon. Dr. McManmon is a psychologist, author, and speaker and had a late diagnosis of autism. He is passionate about helping young people make successful transitions from adolescence to adulthood.
Since CIP's inception, the program has expanded from its flagship center in Massachusetts to five program locations across the country, which also operates several two-week summer programs on college campuses. Along the way, CIP has developed an impressive national professional advisory board and statistics. 75% of the alumnae are currently employed, with 30% of the alumnae working fulltime (a 50% increase over the 20% who are employed nationally), with the largest percentage, 67% working part time. Three percent are working seasonally.
"This is the first program to successfully transition young adults from a deficit-based to an abilities-based model of autism and other conditions," states Dr. Stephen Shore, a world-renowned author, international speaker, and individual with autism.
Originally published in the November 2017 issue of Autism Asperger's Digest.