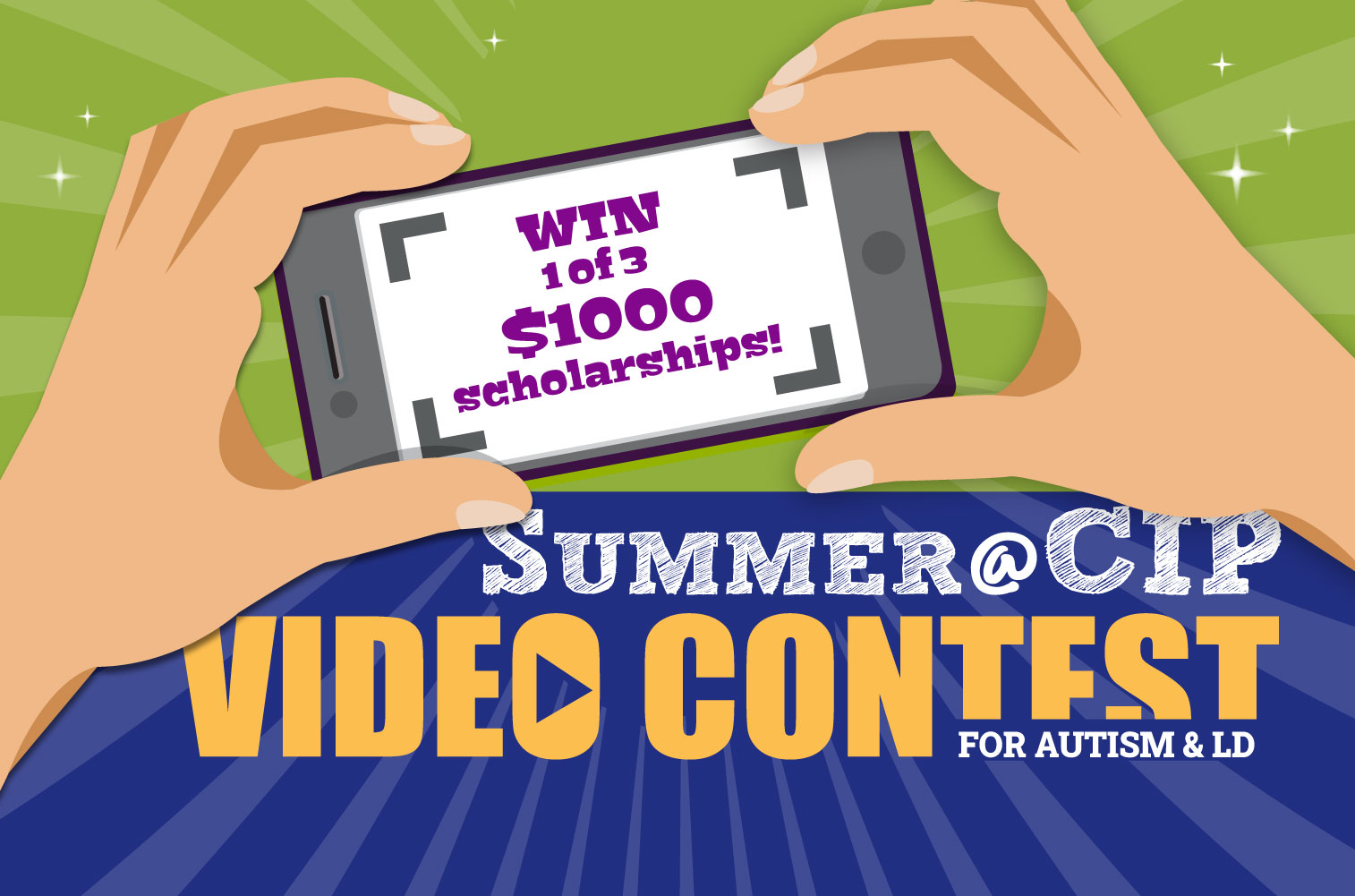 Summer Scholarship Contest
Our Summer@CIP 2022 Video Scholarship Contest is Now Closed!
Summer@CIP is a two-week summer program offered on-site at five college campuses where students live in college dorms and experience a taste of college life. Students learn new skills that are embedded in CIP's cutting edge programming that has been crafted to meet the unique needs and interests of students who learn differently. Participants will also spend time with peers exploring activities in the surrounding community with an emphasis on making new friends and having fun.
Why do you want to attend Summer@CIP?
Create a music video, a poem, a video slideshow, a game show, or take us on a tour of your life - the possibilities are endless - telling us why you'd like to attend Summer@CIP and you'll be entered to win one of three $1,000 scholarships to our 2022 Summer@CIP program.
Looking for some inspiration? Have a look at last year's winning entries!
Rules & Helpful Hints for 2023
1. You must produce your own original video using a digital video camera, phone, or laptop with camera.
2. Create your video: in 1-3 minutes tell us why you want to attend our Summer Program!
Aim high and shoot for success!
Be energetic!
Be real!
Be creative!
Tell us why you want to attend Summer@CIP!


3. Upload your video to your YouTube or Vimeo account.
4. Fill out the submission form with your video link.
5. CONTEST DEADLINE: Friday, April 1st
Tips for Making a Good Video
Use a tripod or set your camera down – Stabilizing your camera or cell phone will drastically improve the quality of your video and remove shakiness.
Good lighting is important – Avoid standing in front of windows or other bright lights inside. Go outdoors during the day and you can pretty much guarantee good lighting.
Good audio – Avoid noisy places. Stay close enough to your camera so that the microphone picks up your voice.
Use the high-quality settings on your camera or phone – If your video is uploaded and the quality is very bad, you may not qualify to win.


Rules & Regulations
The selected winners must meet the Summer@CIP Program's admissions criteria, apply, interview, and be accepted into the program in order to claim their scholarship.
Questions
If you have any questions about the video contest or admissions process, please contact our National Admissions Office at info@cipsummer.com or at 877-566-9247
Sponsored by
The scholarships are provided by College Internship Program (CIP) and Matters of Community, a nonprofit organization dedicated to the integration of special needs children into the mainstream community through the use of music, art, theater, and sports.