In celebration of Autism Awareness Month, we are honored to present CIP's April webinar geared primarily for participants on the autism spectrum.
This webinar originally took place on Tuesday April 14, 2020.
---
Please join us as Dr. Stephen Shore imparts the importance of gaining self-awareness, communication skills, and procedures to effectively obtain accommodations and greater mutual understanding. Doing so empowers people on the autism spectrum to maximize their potential for leading fulfilling and productive lives.

Learn:
- How to define self-advocacy as it pertains to people with autism
- How to determine when it is appropriate to consider self-advocacy
- How to support self-advocacy efforts of people with autism
You will be prompted to register, which will bring you to the On Demand viewing option.
---
About Dr. Stephen Shore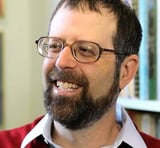 Diagnosed with "Atypical Development and strong autistic tendencies" and "too sick" for outpatient treatment Dr. Shore was recommended for institutionalization as a child. Nonverbal until 4, and with much support from his parents, teachers, wife, and others, Stephen is now a full-time professor at Adelphi University and adjunct at NYU Steinhardt School of Culture, Education, and Human Development, focusing on aligning best practice in supporting autistic people to lead fulfilling and productive lives.

Stephen is also an internationally renowned educator, consultant and author on lifespan issues and serves on the advisory boards of CIP, Autism Society, AANE, and other autism-related organizations.
---
About College Internship Program (CIP)
Founded in 1984, The College Internship Program (CIP) is celebrating it's 35th Anniversary this year. CIP is one of the most comprehensive programs for assisting young adults with autism and learning differences to succeed in college, employment, and independent living. Our mission is to inspire independence and expand the foundation on which neurodiverse young adults can build happy and productive lives.