Summer 2017 wraps up another successful session and we had an amazing time!
Here are some stats from this summer:
CIP hosted 9 summer programs in 4 states

93 students attended from 20 different US states including Hawaii

International students came from countries including:

Bahamas

Brazil

Canada

Ghana

Mexico

Puerto Rico


Thailand

Uganda

This is the second summer session for 25% of the students

20% of Berkshire attendees enrolled in the Full Year Program

55 CIP team members supported the students during the two-week programs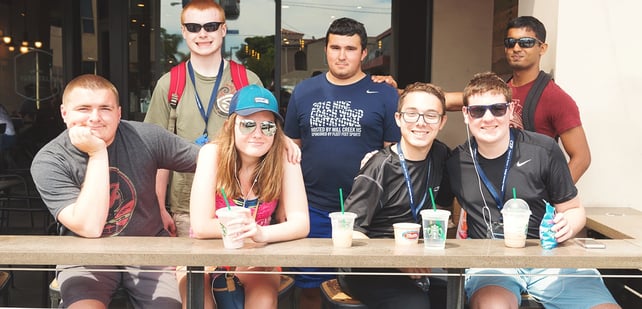 During Summer@CIP, high school students with autism and learning differences spent two weeks on a college campus focusing on experiencing independent living, engaging in fun recreational activities, making friends, and developing social and executive functioning skills.
The participants worked with curriculum focusing on money management, SMART goals, activities of daily living, volunteering, and grocery shopping and cooking -- skills that will assist in preparing them for their future transition into independence. During the Summer@CIP Berkshire session in Lee, Massachusetts, students got their hands dirty volunteering at the Taft Farms' Farmers Market and the public library in West Stockbridge, MA. The local paper, Berkshire Eagle, followed our students around for a day to learn more about how CIP supports their path to independence. You can read that article here.
As part of Mploy, our job readiness program, participants developed the core skills and abilities needed for success in the workplace and independent living. Students participated in career assessments, resume building, mock interviews, and employer visits to assist in furthering their career development. A few of the exciting employers that students had a chance to meet with this summer were: Google, LinkedIn, Walt Disney Family Museum, Hollywood Bowl, Grammy Museum, Blue Q, and the Crane Museum of Papermaking, where students saw how money was made.
A participant from the Berkeley Mploy program was able to improve his interviewing skills with help from the mock interviews that staff and employers conducted with the students. Upon returning home from the program the student successfully completed three separate interviews at Rite Aid, Home Depot, and Goodwill. He has also applied to the Full Year Program and is slated to start this term.