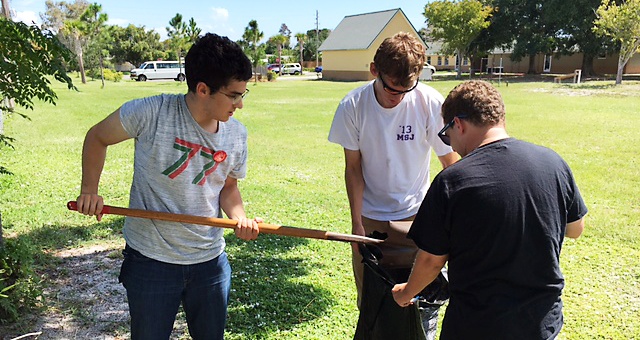 To volunteer or not to volunteer, that is the question!
"I don't have time for that," is the usual answer that people give when asked about volunteering. In today's world, is it true that we have all placed too much on our plates and often don't have the time to 'give' away? Or is it just that our mindset around keywords like volunteering and community services, may not be associated with a positive experience?
At the College Internship Program, when assisting young adults to prepare for the world of work, we strongly rely on the continuum of our employment pyramid:
Community Service – Supervised Internship – Internship to Work – Employment1
Take note that we always begin with volunteering. It provides the young adult with autism or a learning difference with a starting point that can develop an individual's skills and confidence that over time will increase their passion and eventually land them paid employment. It is important to keep in mind that sometimes our desires do not always match-up with our abilities, but that does not mean we cannot find a creative way to try and find a compromise between the two, and settle into a place that is both rewarding and employable.
Volunteering, as we teach our students, provides learning opportunities in many different ways:
it helps us understand what skills we have and what areas of work we might enjoy

it can be a less-pressured environment where you can gain experience and help others

at the same time (compared to paid employment that comes with a different set of expectations)

it may be an opportunity to network and get yourself acquainted with like-minded individuals

it helps teach new skills

it helps build leadership, gain confidence, and create good citizenship

adding volunteer experience on your resume helps you stand out to prospective employers
Here is a story of a young adult from one of our centers: *Holly is diagnosed with ASD, ADD and had physical ailments that affected her mobility. She volunteered for every community service opportunity that was made available at the center. She even provided leadership in developing some herself, including a Thanksgiving Food Drive and raising funds for Wounded Warriors. Her attitude was exemplary, which made her a role model to her peers and staff. Because of our partnership with several community organizations, Holly's hard work was also seen by others, and little did she realize that she was networking through her positive social encounters. One day, we received a call from a company in the community, and they asked Holly to join their team. She is currently interning, gaining skills, and in line for a paid position!
When asked what she learned from the experiences of volunteering, she responded that it made her feel like a more sensible citizen when helping others. She was quick to add that those opportunities, now noted on her resume, showed future employers her true personality, something she was often too shy to discuss in an interview.
Outside of CIP staff's experiences with volunteering -- both in our professional as well as personal lives -- and witnessing the positive effects it has on others, there have also been many research studies that demonstrate the impact of volunteerism in a society.
Simons & Clearly (2010)2 evaluated the influence of a service-learning course with college-age students. Their study findings suggested that service learning contributed to the student's overall academic education, as well as personal and social development. Some studies indicate that the simple act of helping others will boost one's confidence, happiness, and longevity3. McCabe, White, Obst (2007)4 noted that younger volunteers now comprise a significant portion of the community service population. These opportunities benefit young adults through the development of social networks and social cohesion.
So, ask not what others can do for you, but, rather, what you can do for others!
---
References
3Conway, J. M., Amel, E. L., & Gerwien, D. P. (2009). Teaching and learning in the social context: A meta-analysis of service learning's effects on academic, personal, social, and citizenship outcomes. Teaching of Psychology, 36(4), 233-245
2Lori Simons & Beverly Cleary (2010) The Influence of Service Learning on Students' Personal and Social Development, College Teaching, 54:4, 307-319, DOI: 10.3200/CTCH.54.4.307-319
4McCabe, Tamara L., White, Katherine M., & Obst, Patricia L. (2007) The importance of volunteering functions to university students. Australian Journal of Volunteering, 12(2), pp. 50-58.
1McManmon, Michael. (2018). MPLOY A Job Readiness Workbook. Jessica Kingsley Publishing.
*Name changed to protect the identity of the student.