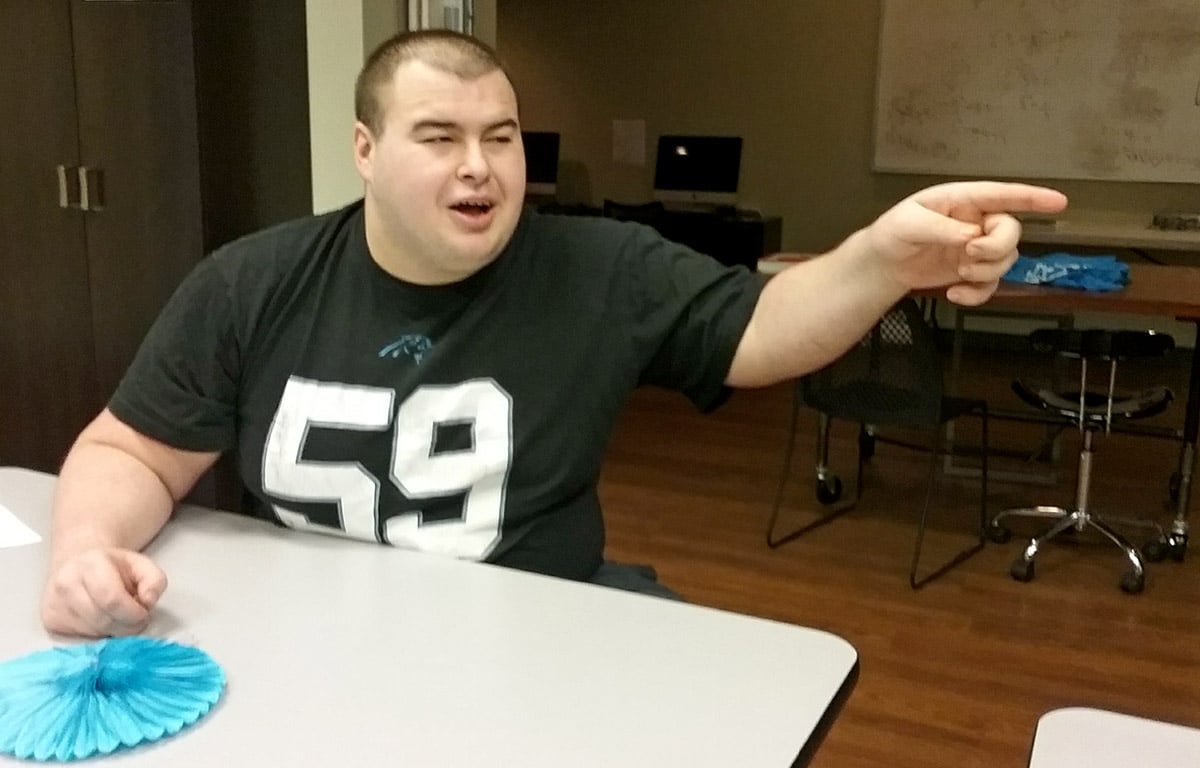 Kevin S. hones his debating skills during CIP Bloomington's new Pop Culture class
Students at CIP's Bloomington Center are immersing themselves in a unique new Pop Culture and Identification course. In this class, students analyze the meaning of self "identification" using a wide array of sourced materials from ancient mythology, cartoons, toys, podcasts, and a variety of films.
In addition to promoting self-reflection and increased understanding of self-identity, the new elective also targets perspective-taking and executive functioning skills including abstract reasoning and cognitive flexibility. Because students find the materials interesting, fun, and accessible, they are able to discuss tricky and complex subject matter in an exciting, relaxed way
During the class, students are asked, "What does it mean to see yourself in a story or product? Who else sees themselves in the same way? What kinds of communities exist around particular fandoms? What does it mean to "disidentify"? How do one's methods and modes of identification compare to those of one's peers?"
Bryce, a student taking the class at the Bloomington Center, was challenged to take the perspective of Professor Snapes, a villain in one of his favorite book series: Harry Potter. Bryce stated he was conflicted about Professor Snape's role in the famous series and his dislike of Muggles. Bryce found this point of view hard to understand and accept. However in a lively discussion, his classmates in the Pop Culture Class pushed him to consider the reasoning behind Snape's motives. What were the intentions and motives behind Snapes' words and actions? Why was he acting so dramatically differently from the beloved hero of the story? In the end, Bryce finds peace with Snape and the ideas he represents.
CIP Bloomington Academics Coordinator Karena Roberts and CIP Bloomington Advisor Raph Cornford combined their individual areas of expertise to create a course specifically designed for CIP students. Karena has many years of experience in teaching individuals with ASD and learning disabilities while Raph has taught at Indiana University and other Indiana colleges. Classroom activities include student presentations, lecture, film viewing and discussion, worksheets, and assigned readings with a discussion. Homework includes written responses to prompts and class discussions, worksheets for films, podcast listening, and a final project.
The course culminates in a final, long term project, a powerful vehicle for an in-depth exploration of self-identity. The project taps skills of problem-solving, strategic thinking, long-term planning, oral presentation, and experience-based research. The process supports the development of executive functions, a core CIP priority and value that is deeply infused across CIP's culture and programming. The establishment of self-awareness, self-acceptance, and commitment to an individualized set of executive function habits, routines, tools, and strategies greatly enhance students' success in college and employment settings.
Aspiring writer, college graduate, and CIP student Andrew had this to say about the course, "[I think the purpose of the course is] to get a general sense of how popular culture and fiction work, applying it to the larger context of society and to the self."
This platform provides CIP students with a medium for showcasing their academic, artistic, and creative thinking skills and investigates the way they see themselves in pop culture. "I view this course as an opportunity to spread knowledge and teach people about something that matters to me," concluded Andrew.