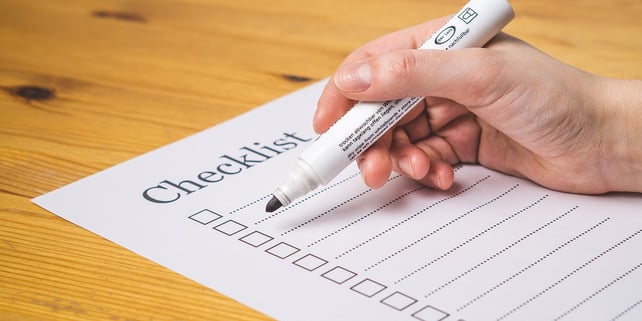 One of the first things CIP students work on during their executive function classes and Life Skills appointments is creating routines to help them reach their goals.
Routines are important not just for students with Autism and Learning Difference, but for successful people as well, in order to:
Establish good habits,
Create structure, and
Assist organization
Task Lists
Many times this starts with a basic daily schedule which is then broken down into task lists for each objective. However, before beginning to follow a routine, the most important thing for students to do is write it down and keep it visible.
At CIP, we help our students create their own routines -- these are not based on what staff thinks they need to do. Students need to take ownership of the routine and base it on what they think is important to accomplish.
We help the students break down general goals, like "Be ready for class" into a more detailed list by asking: "How are you going to get to that point?"
For example, to be ready for class you will need to get up on time, shower, eat breakfast, prep your backpack and leave the house by 8 a.m.
All of these smaller tasks help the students reach that goal of being ready for class.
Routines
One of the basics is our students' morning and evening routines. This is an example (click to download the example PDF):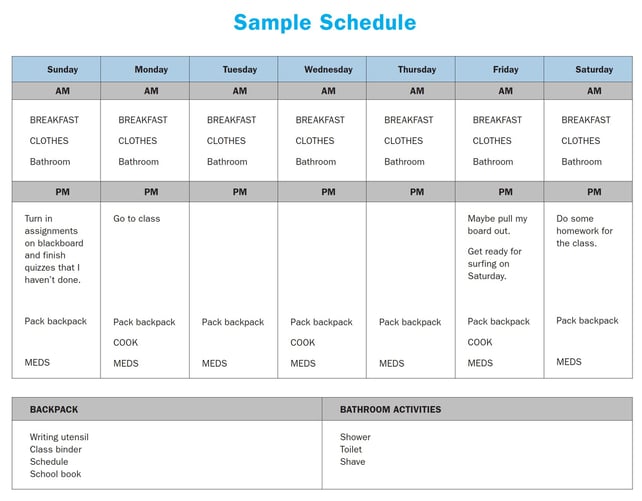 A good morning routine ensures you will be ready for the rest of the day whether you are going to school or work. The evening routine is important as well because it enables you to be organized and ready for the next day.
Many successful people rely on routines to keep them focused and on task even when things become hectic. Benjamin Franklin was known for struggling with organization, but he found creating a routine was the best way to stay organized and, as he put it, reach "moral perfection." Perfect probably isn't what your student is looking to achieve, but the results of using a routine is the same: reaching the desired goal.
The routines students use throughout the year help them build positive habits and attain success. It is very important that they maintain a similar routine when they return home for breaks so they have a smooth transition when they return to school. Obviously, they will not have school-related activities to fill their schedule, but they can find things to do over the summer to keep them in the right frame of mind to continue to progress.
Keeping Things Constant
A few things should remain constant in their schedule and already be habits for them. They should go to bed at the same time. They should also continue to use all of their life skills at home, like cleaning up after themselves, cooking and doing their own laundry. It is tempting to help with some of these simple tasks, but will only create setbacks when they return to a more independent living situation. Remember, without a routine that continues their positive momentum, they may create bad habits that will be difficult to break when they return to school. Bad habits emerge without our permission.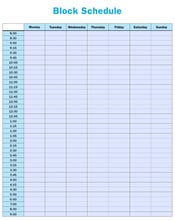 Your best course of action is to sit down with them at the beginning of their break to create a schedule and specific routines they can follow at home. CIP students should return home with break suggestions from each department and a schedule template you can help your student fill in. Click the Block Schedule image on the left to download a fillable template (or create your own).
Use this template to add family activities, tasks you expect the student to complete throughout the week or even work time if your student has a job over the break. Revise this schedule with your student each week and use it to keep track of their progress.
---
Tips for Daily Routine Success
It can sometimes be difficult to know where to start when using a schedule to create routine, so try using their current schedule as a guide and following these Tips for Daily Routine Success to help your student create an effective routine:
Go to bed early - It is easy for students to create a new habit of going to bed very late at night over breaks while they are at home. This will increase the amount of time it takes them to get back into a good sleeping routine once they return to school.
Get 7 to 8 hours of sleep each night - Getting enough sleep isn't just good for your routine, it's also important for overall health.
Exercise each day - Your student may already have this as part of their routine; don't let them get out of the habit at home.
Meditate each day - This may already be part of your student's wellness routine.
Study each day - Breaks are a great time for your students to continue to read or listen to books that pertain to their area of study in school.
Break tasks into milestones - Break larger tasks into smaller tasks. Completing these smaller tasks will give a sense of accomplishment on their way to reaching larger goals.
Think through your workflow - Your student should approach each task with a plan. This will give them a chance to envision success and execute.
Put a time limit on tasks - Don't let your student burn themselves out. Have them use alarms on their phones to let them know when it is time to move on to the next task.
Don't be a perfectionist - If your student spends too much time on a single task, they run the risk of sacrificing effectiveness and efficiency with the rest of their routine.
Practice self-discipline - People are not born with self-discipline. However, your student can increase their willpower through practice, removing temptation and visualizing the completion of their goals.
Extinguish negativity - While thinking through workflow, your student may find barriers in the way of progress on certain tasks. Acknowledging that these barriers are there and having a plan to overcome them ahead of time will help them stay on task. Your student may need help seeing these issues ahead of time, so as you help them create these schedules or routines make sure to point them out. Don't forget to encourage them and praise their success.
Students may be resistant to creating or maintaining routines and schedules over break in the beginning. It may be helpful to talk to them about the routines you follow daily that have helped you be successful. Keeping up with these routines during their breaks is beneficial to their overall success.
---
About the Author
Anthony Milla is the Lead Life Skills Coordinator at CIP Brevard. He attended Ohio State University and studied psychology before taking a position at Devereux Florida where he was a floor supervisor, hiring manager, and Physical management and Verbal de-escalation trainer.