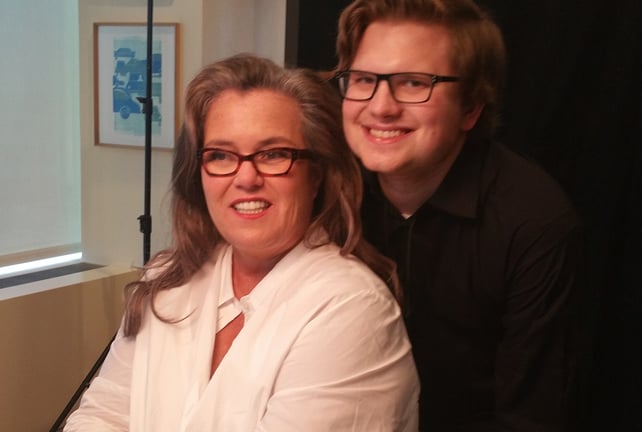 Photo above: Student Kip with Rosie O'Donnell posing for a quick "photo shoot" at Ed Asner & Friends Poker Night.
CIP's Long Beach Center is making a splash this Fall with a record number of enrolled students, new community partnerships, student success in the workplace, and an exciting volunteer event with Hollywood celebrities.
New Partnerships
CIP has been designated as a Service Learning Site for California State University Dominguez Hills. University undergraduate interns serve as peer mentors and support CIP students as they gain transferable skills for their career paths and social skills for independent living.
CIP student Evan has been hired to work as a Test driver for community partner KETT Engineering in their automotive testing division. Evan is responsible for driving and evaluating pre-production and prototype test vehicles on "real world" test routes.
Additionally, CIP has recently formed a partnership with The Long Beach Veteran's Hospital System which provides opportunities for CIP students to serve as patient escorts. Students have also volunteered at the VA patient garden which offers therapeutic benefits for veterans.
Jobs & Internships
CIP Long Beach students are experiencing success in a variety of unique workplace settings. Students are currently employed at popular locations including Goofy's Kitchen in Disneyland, Long Beach City College-Child Development Center, LA Fitness, The Long Beach Playhouse, and TJ Maxx.
Additionally, many students have internships in the community, working as store associates, pet professionals, teacher's assistants, patient escorts, cashiers, personal trainers, bookstore associates, retail store associates, and stockroom associates, just to name a few.

Celebrity Event
Earlier this month, students and staff served as volunteers for Ed Asner and Friends Poker Night benefitting The Autism Society. CIP's team was responsible for maintaining the Silent Auction and Opportunity Drawing Room and had the opportunity to mingle with celebrities such as Rosie O'Donnell, Ed Asner, Matt Asner, Thomas Gibson and former NBA LA Lakers player Ron Artest. The CIP team had a memorable experience while supporting a great cause. "This was an amazing opportunity. I loved it," stated CIP student volunteer Claire.