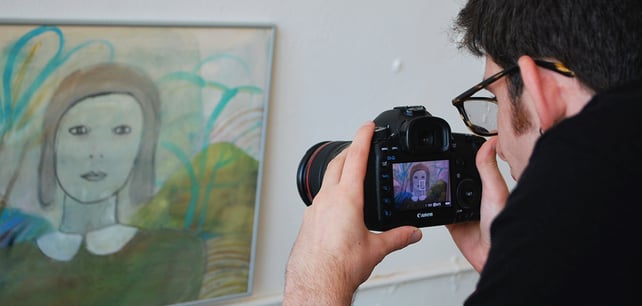 Photo Above: CIP student Joe at his internship with BlueLine
With an impressive 100% student internship rate during the summer months, CIP Bloomington is gearing up for a great Fall Term.
Students are currently interning at sites including Serve IT, WildCare, WFHB Community Radio, BlueLine (photo above), Cook Medical, Southern Indiana Scuba, WonderLab, The Game Preserve, and Lucky Guy Bakery. Others have secured paid employment at Hilton Garden Inn, Scotty's Brewhouse and Nick's English Hut, just to name a few. Many students will continue with their internships and jobs this Fall along with college academics.
Bloomington has recently expanded their partnership with Indiana University, providing 27 interns from three departments including their school of psychology and school of public health.
Students took part in over 200 civic engagement hours this year, and pitched in to volunteer for Autism Awareness Month,The Polar Plunge, and Area - 10 Agency on Aging just to name a few projects.
Bloomington staff members bring a wealth of experience to their positions at CIP with expertise in areas including mental health case management, special education, applied behavior analysis and community-based post secondary education.
Photo Above: CIP Bloomington students at WildCare
Curriculum & Services
CIP is utilizing PEERS-based curriculum, an evidence-based social skills training program and is also offering CIP's Family Services which includes coaching and educational trainings designed to support our families at no cost.
Our new Graduate Living Community (GLC) provides lower-cost, longer-term options for students who complete the on-campus program and transition to higher levels of independence within the community.
For more information, visit CIP Bloomington.
National Admissions Department
877-566-9247
admissions@cipworldwide.org