Mploy – A Job Readiness Workbook
Career Skills Development for Young Adults on the Autism Spectrum and with Learning Difficulties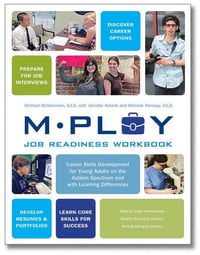 Michael P. McManmon, Ed.D. with Jennifer Kolarik and Michele Ramsay, Ed.D. Foreword by Carol Gray.
This self-guided workbook is suitable for young adults aged 16-26 with ASD (Autism Spectrum Disorder) or LD (Learning Differences), to teach the necessary skills for entering the workforce and forging a meaningful career path.
Providing insight into a range of industries and workplace settings, this workbook will help you to support young people in choosing rewarding and successful careers. Detailing the College Internship Program's (CIP) successful Mploy program, the information in this book will help young adults to develop self-confidence and build social connections.
Including activities and ready-to-use worksheets, this is a focused look at preparing for work. Key topics include:
Career assessments
Creating effective resumes/CVs
Interview skills

Employer expectations
Professional communication
Performance appraisals
Handling stress in the workplace
Social thinking
Executive functions in the workplace
---
Other Books by Dr. Michael McManmon:
An Active Learning Teaching Toolkit
by Michael P. McManmon, Ed.D.
A comprehensive curriculum for independent living with ASDs or LDs, providing everything teachers, clinicians and other professionals working with young people with an ASD or LD diagnosis need. It includes tried-and-tested teaching and learning strategies, ideas and photocopiable resources to achieve measurable outcomes.
---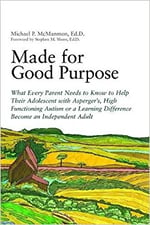 What Every Parent Needs to Know to Help Their Adolescent with Asperger's, High Functioning Autism or a Learning Difference Become an Independent Adult
by Michael P. McManmon, Ed.D.
Filled with practical advice and useful techniques, this book helps parents support their child with Asperger's Syndrome to make the transition from adolescent to happy, confident, and engaged adult. With this essential guide, young Aspies can achieve independence and learn life-long skills for succeeding in college, work, relationships, and more.