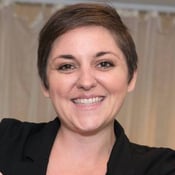 The Long Beach College Internship Program would like to spotlight Crystal Hayes, Head Student Advisor.
A Future Olympian?
As a child Crystal remembers wanting to be an olympic softball player. This was a huge part of her life for many years. She sustained a physical injury in her early years that changed her career path. She later fell in love with music and worked toward a career as a band director. After working as a high school band director out of college, she moved on to work as an entertainer on Carnival Cruise Lines. Her experiences working on a cruise ship were filled with adventures and the opportunity to meet and live with a large community of people. Her favorite person in life was her mother who understood her as a person and shared similar ethics of hard work and determination. Her family was encouraging to her career and most any direction she found herself heading.
Changing the World
If Crystal was given a magic wand to change anything for the world's benefit, it would be to fill it with hope and positivity; to bring a focus of all the great things we are fortunate to have within ourselves as well as around our daily lives.
Vision for the Future
Crystal came to CIP after learning of an opening where she could pull from all of her experiences as well as her degree in special education. The advising position matched what she was looking for and fit her strengths and her vision of her future. Her favorite thing about working at CIP is working with the students to set goals and celebrating their successes with their families. When asked what advice she would give to someone considering working at CIP, she simply stated "There is no better option. What we do makes you feel good and makes you want to come to work. Students and staff are amazing. It's a great place to be and lots of growth to be had. Creativity is encouraged and growth is endless."
She offers an amazing background and credentials from Whitworth University where she earned her Bachelor's degree in Music Education and a Masters degree in Special Education from McNeese State University. The skills she has learned from her education and experiences provide the pedagogy that play into the role of supporting students. Her masters research focused on how learning and playing a musical instrument impacts behaviors of students with attention deficit disorders. She is most proud of her resilience. Knowing that when you have hurdles in life, they are learning opportunities and the ability to move past them is how we practice navigating the world and celebrating our successes. Anyone who knows or has worked with Crystal would see this immediately in her day to day interactions. Thank you Crystal for everything you do for our CIP students and families!