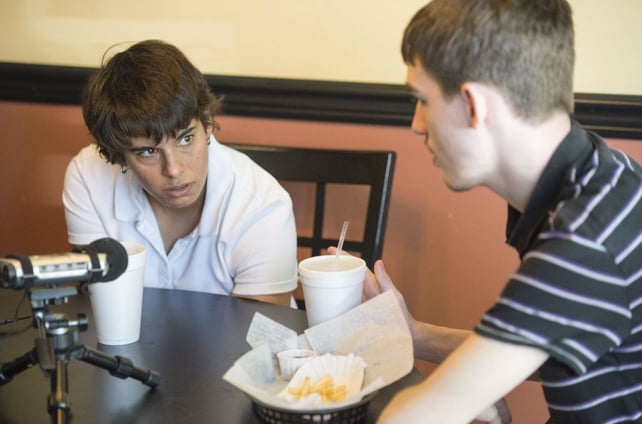 Adria Nassim interviewed Indiana University student Reagan Roush to help The Herald-Times highlight Autism Awareness Month.
Nassim is an alumna of College Internship Program, in which Roush is now enrolled. The two talked about music, work and school over a recent downtown lunch. The full interview on The Herald Times website includes audio clips of their conversation.
Q: Before you came to CIP, what was your life like? What has your experience been like at CIP Bloomington?
A: I did like it at home (in Zionsville), but I didn't have that many opportunities. I did have school, of course, and I liked to sit in my room and listen to music. Sometimes we would go out, but my family is really busy. We have seven children, including me, and the majority of them have special needs. CIP is a great experience. I like that everybody is so supportive of me. They help me advance in all different ways — academically, socially and residentially. It has encouraged me to develop an independence I want to have. I have been needing less and less support because I am becoming independent.
Q: Do you like life in Bloomington? What are some of your favorite spots in Bloomington?
A: I love it. I have more freedom down here. Campus is my No. 1 favorite spot, and it's really clean there. Outside of campus, I really like the trails, B-Line and Lake Griffy, as they have a lot of nice trails. I love walking; I walk to IU every day, to and back. Walking allows you to take in more.
Originally Published in The Herald Times Online
April 25, 2017
Photo above via The Herald Times Online