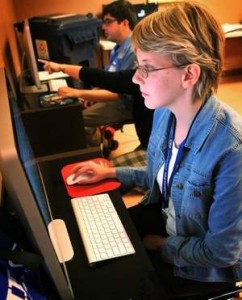 Originally published in Florida Today
By Britt Kennerly
As far back as he can recall, Moultrie Woodall was told he was bright and brimming with potential.
But despite his knack for math and "desire to read everything," Woodall found it almost impossible to direct his focus and energy.
His life started to change after his diagnosis, at 17, of Asperger's syndrome, and a phone call from a former principal about a program that might help.
Now, at 23, this high school dropout has earned a GED and an associate's degree, gotten his driver's license and has volunteered at libraries and museums.
And Monday and Tuesday mornings, he is realizing his potential in a classroom off Wickham Road, teaching young adults with Asperger's, autism, ADHD or other learning differences...