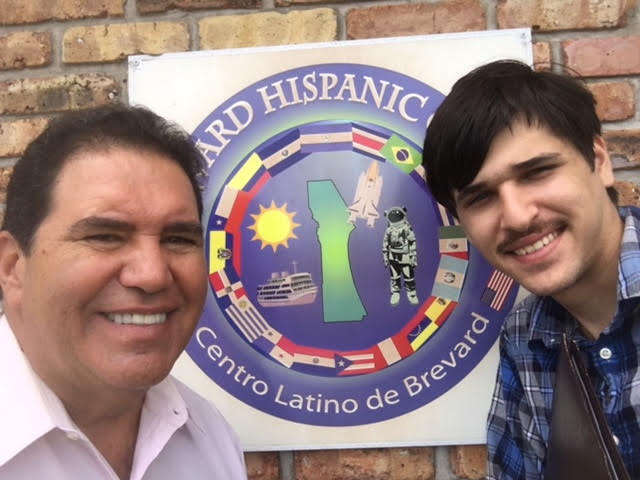 Congratulations to CIP Brevard staff member, Eddy Vasquez, for receiving this month's Outstanding Employee award!
Q. As a youngster what did you want to be when you grew up?
As a youngster, growing up in New York, my first response ever to what I wanted to be when I grew up was "a fireman." The fire stations and commotion when others needed help always attracted and fascinated me.
Q. What challenges did you have in reaching your career goals and how did you overcome them?
The biggest challenge I can recall when reaching my career goal of becoming a Hotel Manager, was living away from my family. I was a Senior Officer/Hotel Manager of a passenger cruise ship. I encountered families on a daily basis, and recalled my very own, which I could not see for nine months at a time. To overcome this feeling of missing them, I ensured communication with them on a daily basis. At the time, it would be via phone, as there was not as much technology available then as there is today.
Q. Why did you come to CIP and what is the best part about working here?
My nephew, whom I adore, is part of the Autism Spectrum. From my visits to my sister in Melbourne, I knew what CIP stood for. At that point I knew that if I ever made the move to Melbourne, this is where I would want to work. I felt I could be a valuable and dedicated team member who would understand from hands on experience these young adults belonging to the Spectrum. Once I transferred from Ocala, FL, I knocked on CIP's front door on three different occasions, hoping to have the opportunity of meeting the program director, Dr. Ramsay. I was fortunate to be called upon for an interview. My interview was successful, and I was hired.
Simply put, I love what I do. No matter in which capacity, I will always have the students' best interest at heart. There is no bigger pleasure than seeing one of them succeed. The goal is to have them all succeed.
Q. What would you say to someone considering working at CIP?

I would tell them they will be working in a very professional and close knit team environment, with everyone having the same goal in mind - that being the student body.
Q. What degrees/certificates, or educational experience do you have that contribute to your current career at CIP?
I hold an Associate of Arts degree in Business Administration from Broward College, and I am presently working towards completing my Bachelor's Degree. I bring over 20 years of experience in customer service, acquired while working in the hospitality industry, from Front Desk Management of 5-star hotels to Hotel Manager for a cruise line passenger vessel.
My experience and education allow me to teach our students how to prepare to join the workforce and provide excellent customer service.
Q. Who was most helpful influential in your life and why?
The most influential people in my life were my parents. My father has passed away; however, my mother continues to be a very important figure in my life, and someone I look up to every day. From a very young age they instilled in me the highest of values and work ethics and taught me that in life there should be no place for mediocracy.
Q. If you could change anything about the world today what would it be and why?
I would like to see impoverished nations assisted regardless of what resources they can contribute to the world. It has always been a fact that those nations which are not able to provide a natural resource valuable to the world, are left behind, regardless of what their humanitarian needs may be.
Q. What are you most proud of in your life?
Being an outstanding son, brother, brother-in-law, uncle and spouse to my wife of 25 years.