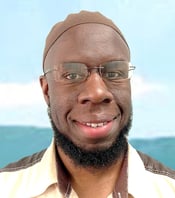 College Internship Program Berkeley would like to spotlight Yasin Johnson, Life Skills Coordinator.
Yasin, has been with the Berkeley center since it opened 10 years ago.
He was one of the original crew hired to start up the center prior to students attending the program.
A Career...as a Veterinarian?
As a young man, when asked what he wanted to be when he grew up, he wanted to work as a veterinarian because he loved animals, particularly reptiles. It was only later when he realized the details of the profession would likely involve working with the internal parts of an animal, that he decided this was not the profession for him.
Later in life, around 9th grade, he began to understand a connectedness with physical fitness and nutrition, specifically kinesiology, which continues to interest him today. Upon graduating from college with his bachelor's degree in literature, he taught ESL overseas in Dubai at the University level. This experience provided him the opportunity to learn how to speak and read Arabic. When he returned to the U.S., he worked with the unified school district in providing educational services to students diagnosed with special needs.
His Family
The challenges he faced in his career were related to what he is most proud of in life, his son and family. Raising a family with a newborn, working full time, and pursuing his Master's degree is where he learned how to organize his life with a routine schedule that kept him on time, with all of life's responsibilities. He contributes much of his success to his supportive parents who provided encouragement all along the journey.
When asked what he would change in the world today if he had the magic wand to do so, he stated he would make sure that every human being would have equal access to real food and clean water.
Working at CIP
He wants others to know the best part of working at CIP is seeing the difference we each make in young people's lives through our programming. Helping students set life goals and achieve them, is extremely rewarding. With his history of 10+ years working for CIP, he would tell anyone considering working with the organization to be prepared for change and flexibility.
During his tenure, he has seen the program evolve into a student centered structure, tailored to their individual needs. He would encourage applicants to be creative but also flexible and open minded to change as each day presents new opportunities, and many are unlike the days before. Yasin brings not only his experience and legacy with CIP, but also having earned an AA in Liberal Arts, a BA in English Literature, a certificate in TSOL, and a newly earned Master's of Education in Applied Behavioral Analysis.
Congratulations Yasin, and thank you for all you do for CIP students!