This year, CIP Bloomington learned more about the circus for Autism Awareness Month.
CIP students, led by Ann Dorwin of RINGS Circus Education, trained in the arts of juggling, balancing, and plate spinning during our Social Thinking Class. Our students practiced as if they were part of a circus troupe.
During this process, they learned to couple repetition and motor skills with the cognitive processes related to muscle memory. This was important to our students because learning to develop a new physical activity creates a new way of thinking; a new mentality. Once their training had ended, the CIP students then decided to use their skills within the Bloomington Community. We set up a time to meet with Head Start in Bloomington and our CIP students helped lead an education workshop on juggling for 3 – 5 year olds, as well as put on a small performance.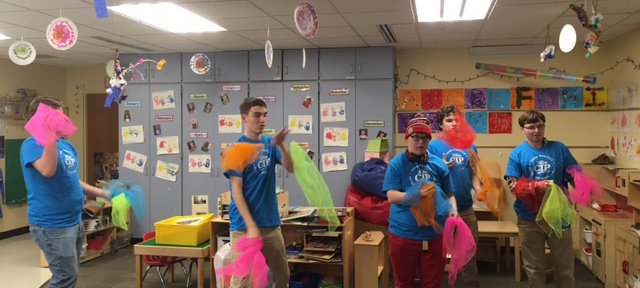 CIP student Cody was a big help in assisting with RINGS Circus and Head Start. He was involved in all the training sessions and with teaching the kids. He seemed to enjoy the routine of juggling, coupled with the excitement of teaching young children. "I enjoyed learning about the cognitive benefits of circus activities. I also enjoyed reaching kids."
Overall, it was a great day for Bloomington as CIP and Head Start learned more about their hidden talents as they practiced developing new skills in a world beyond their comfort zone.